Wedding Photo Editing Services
0
+ Images Processed Daily
Our retouchers need just 24 hours to accept an order, discuss the details with a client, improve photos and send them back.
If you have any questions concerning the ordering process, prices, offered services and whatnot – you can contact our managers 24/7. 
We always follow current portrait retouching quality standards to deliver images of top quality. Our retouchers edit photos without losing quality.
We Provide Best Outsource Wedding Photo Editing Services:
Professional Wedding Photo Editing Service Pricing
High End Level
Pro Beauty Retouching for 3-5 Persons Make Up Adjustment

Slight Body/Face Imperfections Removal

Following the Client's Style
Basic Level
Basic Retouch for 2-3 Persons

No Portraits/Indoors Photos Editing
Color Correction
Matching your style Additional Services: Culling - $0.06 per photo Charging for all submitted photos

Deleting All damaged or duplicate images

Culling under the clients' requirements

Marking of the chosen images with the stars in LR Catalog
Bulk Services for Permanent Customers

Discount for all buld photo editing services during a month who orders from total cost is more than $200.00 US per 1 order.

Discount for all buld photo editing services during a month who orders from total cost is more than $1200.00 US per 1 order.
Bridal Portrait Enhancement - from $4 per photo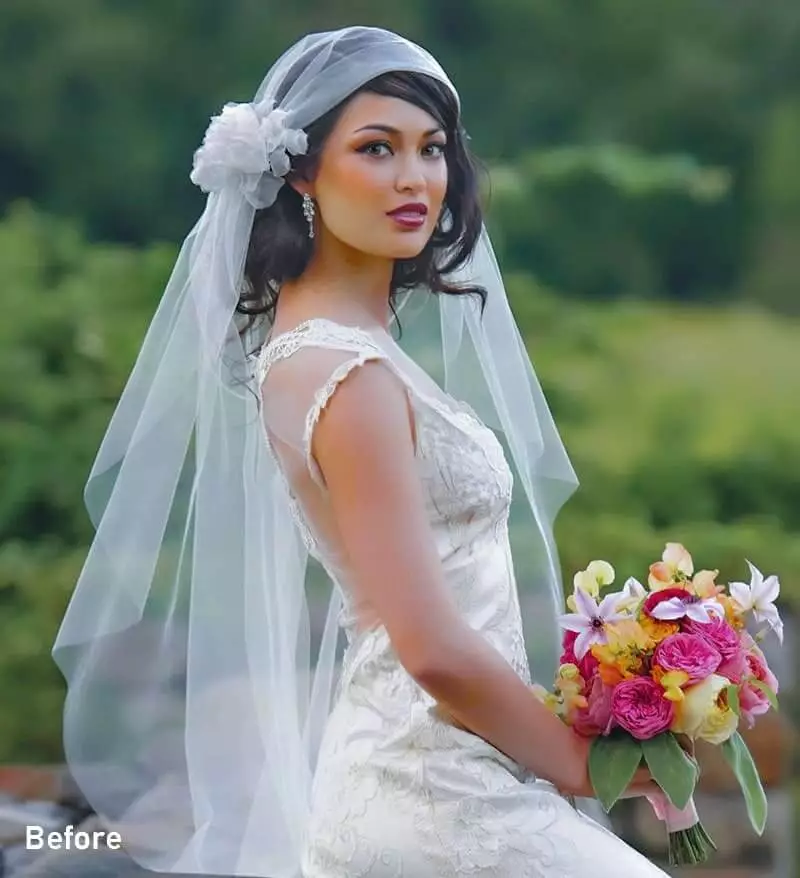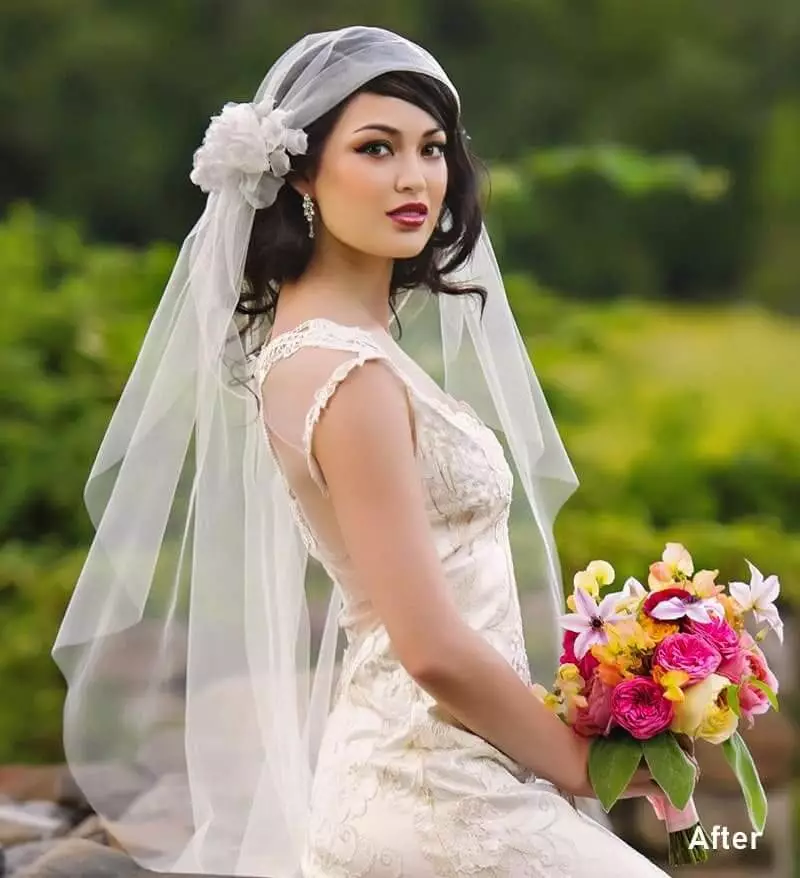 Brides and grooms are the spotlights of a wedding. Looking your best on your wedding day is essential. You can turn to professional portrait enhancement services to make sure you look your best in your wedding photos. We offer the best bridal portrait enhancement service in the business at the most affordable rate. We have years of experience enhancing portraits and know precisely what to do to make you look your best. We will color correct your photos, enhance overall, make your skin look better than ever, and remove all imperfections. Our experts edit to make your dream a reality.
Basic Level – US $4 (per photo)
Our Bridal Portrait Enhancement Service Provides::
Moody color correction
Skin retouching
Facial hair adjustment
Wrinkles removal on clothes
Background enhancement
Making skin tone smooth
White balance fixing
Deep shadows removal
Making eyes brighter
Benifit of This Service:
When you are looking through your wedding photos, it is inevitable that you will find at least one where you don't love how you look. Maybe your hair was a mess on the day of the shoot, or you have a pimple in the photo. No matter what the reason, bridal portrait enhancement editing services can help to fix these issues and make your photos look their best. Professional photo editors have years of experience working with images and know how to make subtle changes that will improve your appearance in the photo. They can remove blemishes, fix flyaway hairs, and even lighten or darken areas of the photo to help you look your best.
Light and Airy Wedding Retouch - from $3 per photo
Wedding photos are meant to look romantic and loving. Your wedding photos will be augmented with a folksy style by our innovative wedding photoshop specialists. Our photo retouchers keep up-to-date on the latest photo editing trends to make your photos look light and airy, pastel, or however, you desire. We put in a lot of time and effort to ensure that your photographs are distinctive, one-of-a-kind, romantic, and moody. We revise the photos multiple times to ensure that their clients get their edited photographs as promptly as possible. Our goal is to get your perfectly finished images to you as quickly as possible.
Basic Level – US $3 (per photo)
Our Light and Airy Wedding Retouch Provides:
Proper color corrections
Vibrance enhancement
Brightness and contrast fixing
Shadow adjustment
Stubborn stray hair removal
Body liquify
Wrinkle removal
Benifit of This Service:
When it comes to your wedding photos, you want them to look their best. This is especially important if you're planning on displaying them in your home or office. Unfortunately, not all photos come out perfect from the camera. That's why many couples turn to light and airy wedding retouch editing services to help them achieve the perfect look for their big day. Professional photo editors can work miracles with your images, removing blemishes, brightening colors, and making other small adjustments that will make your photos look amazing. In addition, they can often improve the composition of your shots, adding drama or interest where necessary.
Natural Wedding Picture Editing - from $7 per photo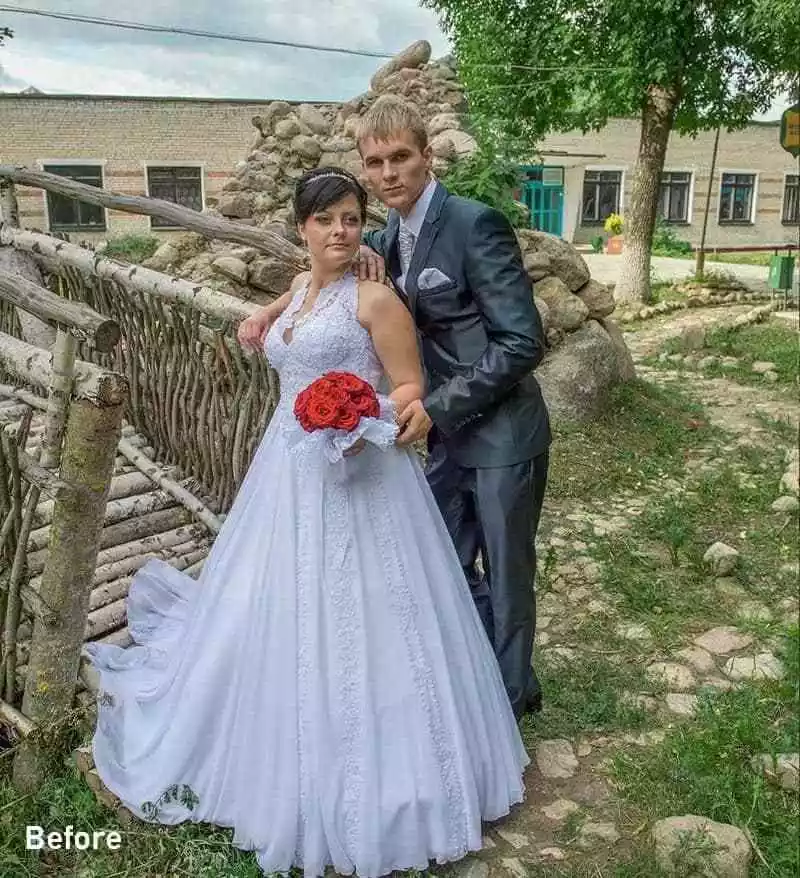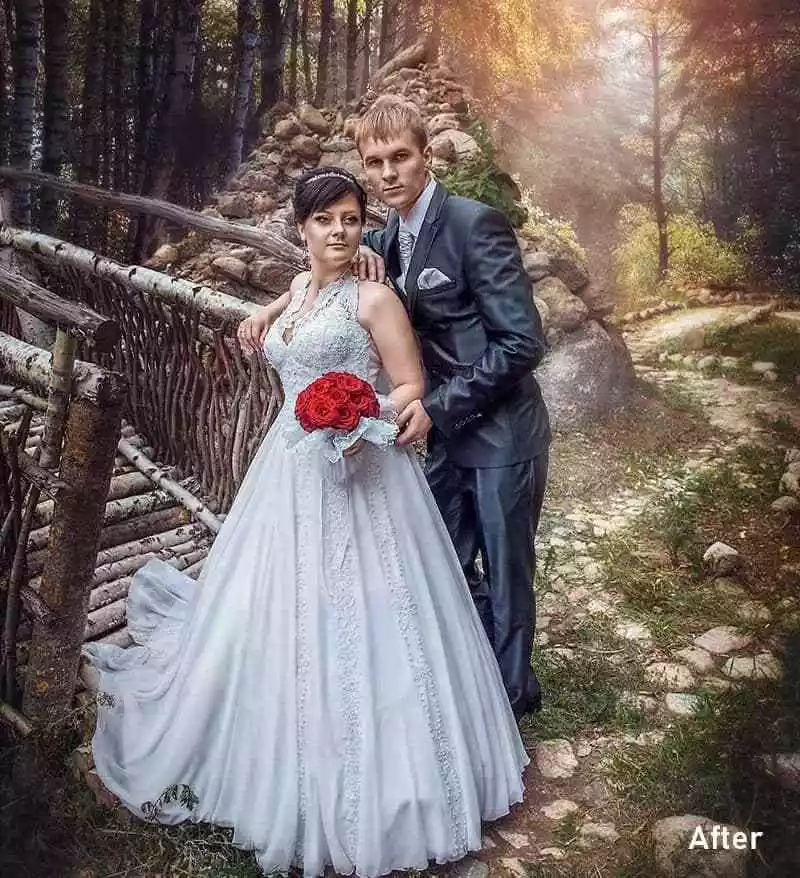 In editing the results of photoshoots, our goal is to use only subtle yet effective changes to pictures that consumers will not have the knowledge to perceive instantly. Our commercial photo editing services include an eye for tiny details and extensive training on specific picture editing techniques. Eliminating acne, blackheads, and other skin blemishes is the first step and part of our wedding editing procedure. The color correction makes creative modifications to fabric, backdrops, facial features, accessories, and other elements in the image.
High End Level – US $7 (per photo)
Our Natural Wedding Picture Editing Provides:
Color correction
Removing bags under eyes
Skin color adjustment
Distracting shadows removal
Stray hair removal
Wrinkles removal
Special Effects
Lighting effects
Benifit of This Service:
When you're planning your wedding, the last thing you want to worry about is how to make your photos look perfect. That's where natural wedding picture editing services come in. These professional services have the best editors and experts who can help you remove stray hairs, fix any blemishes, and make your photos look absolutely amazing. They offer high-end services that will give your wedding pictures a truly unique and romantic look.
Wedding Photo Editing – Background Enhancement -from $10 per photo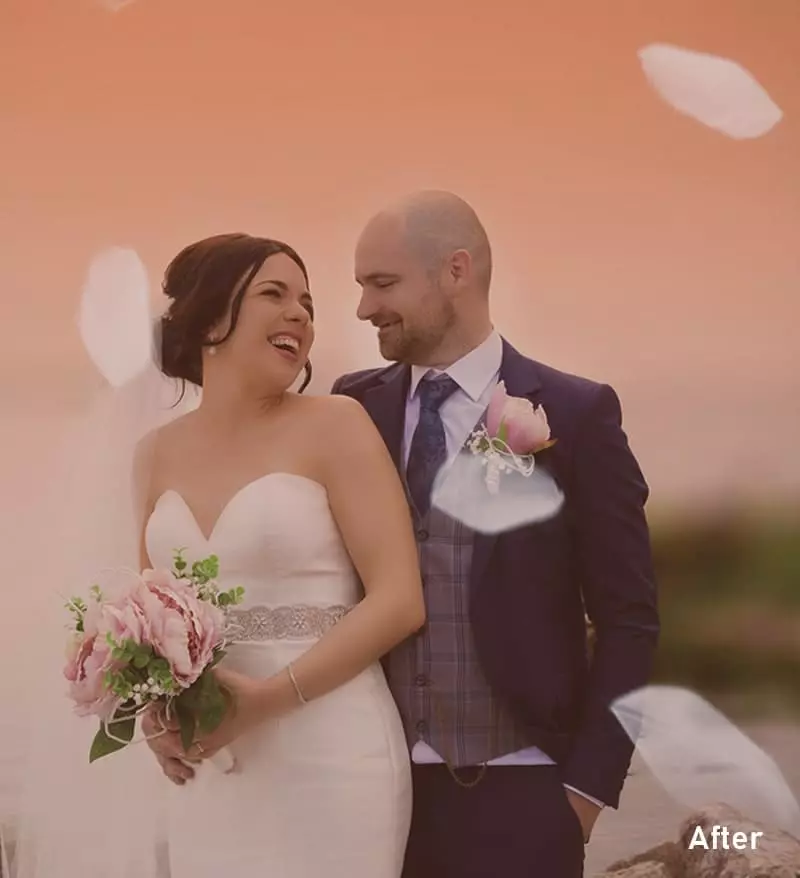 Many situations can happen during photographs shots in a wedding that may demand the usage of a professional background enhancement service. Get in touch with Retouch Pilot marriage photo editing advisers and explain your requirements, such as which items you want to keep in the foreground and which to leave untouched. We'll carefully eliminate unwelcome image intruders, furniture, landscape, etc. We'll change the colors to give the room a more dynamic aspect. If you prefer a more moody atmosphere, we will soften the hues. You have complete control over the finished result based on your preferences.
High End Level – US $7 (per photo)
Our Wedding Photo Editing Service Provides::
Moody color correction
Skin retouching
Facial hair adjustment
Wrinkles removal on clothes
Objects removal
Background enhancement
Making skin tone smooth
White balance fixing
Deep shadows removal
Making eyes brighter
Benifit of This Service:
When it comes to wedding planning, there are a lot of little details that can be overwhelming. One way to take some of the pressure off is by using a wedding background enhancement service. These professionals can help you with everything from photo editing to creating a custom backdrop for your ceremony or reception. There are many benefits to using a background enhancement service. First, they can help you create a look that is unique to your wedding. Whether you want a vintage or rustic feel, or something more modern and sleek, these professionals can help make your dream vision a reality.
High-End Wedding Picture Editing -from $8 per photo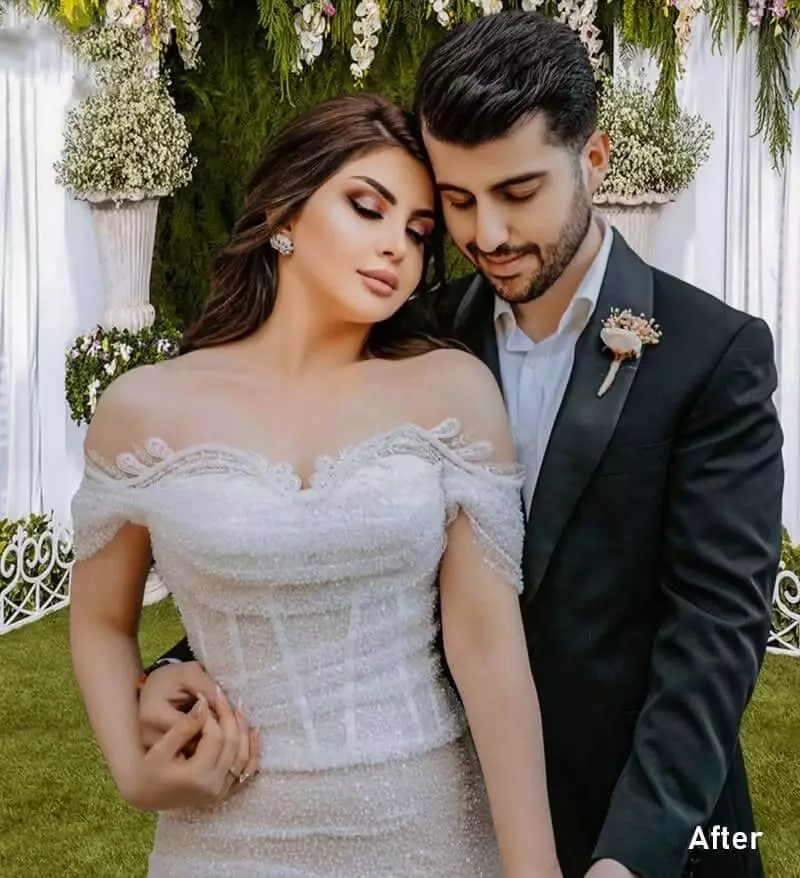 Our high-end and magazine wedding photos editing and color correction services are suited for the most lavish events. We know how to use Adobe Photoshop and Lightroom to enhance photos for the bride and groom on their wedding day. Using these programs, it is possible to remove stray hairs, enhance or even apply makeup to the bride and groom. Additionally, jewelry can be edited to remove glare, wrinkles in clothing can be smoothed out, and any other touch-ups that may need to be made can be done with ease. If you're looking to add a little bit of artistic flair to your wedding photos, you can order our high-end photo editing services. By adding a vintage effect, light streaks, stars, hearts, haze, or rainbow, for example, We can make your photos stand out. Just mention your desired effect in the description of your order, and our skilled artist will take care of the rest.
High End Level – US $8 (per photo)
Our High-End Wedding Picture Editing Service Provides:
Photo color correction
White balance correction
Stray hair removal
Bags under eyes removal
Shadows adjustment
Skin retouching
Wrinkles removal
Background Change
Realistic Effects
Benifit of This Service:
Couples should consider the following key benefits of lightroom wedding photo editing services. Pro editing can make a huge difference in the overall look of photos. Wedding photographers can make ordinary photos look magazine-worthy by adjusting color, light, and contrast. This is a huge benefit for couples who want their wedding photos to be perfect. The second benefit of professional photo editing is that it can hide any flaws in the photoshoot For example if someone's hair was blowing in the wind while taking a photo, the editor can remove it. This is a great solution for perfect wedding photos!
Wedding Photography Editing and Color Correction - from $6 per photo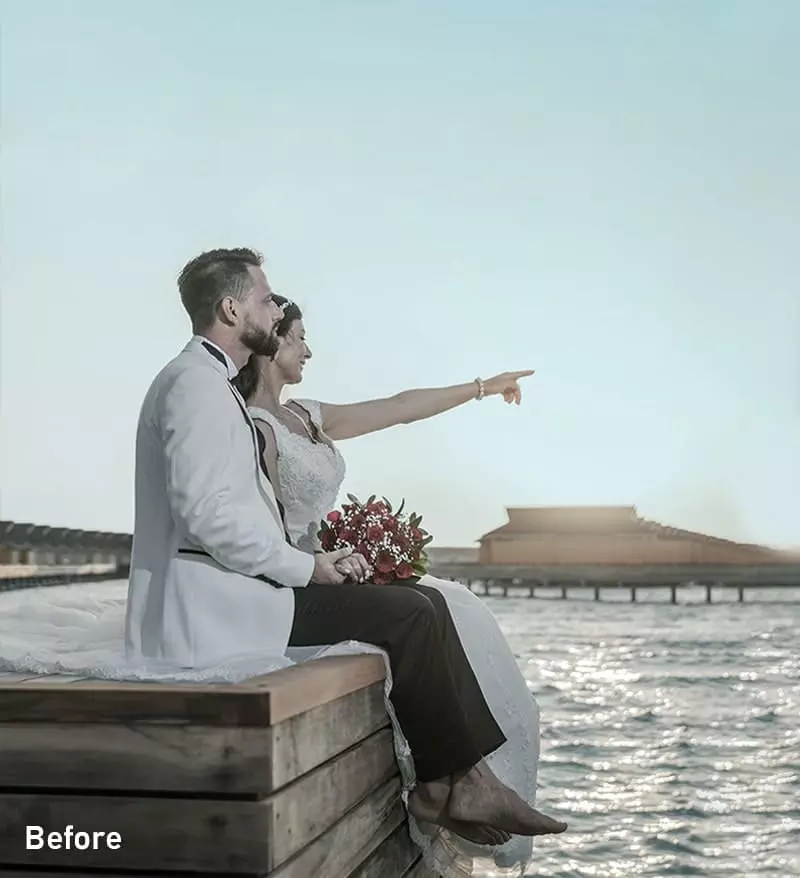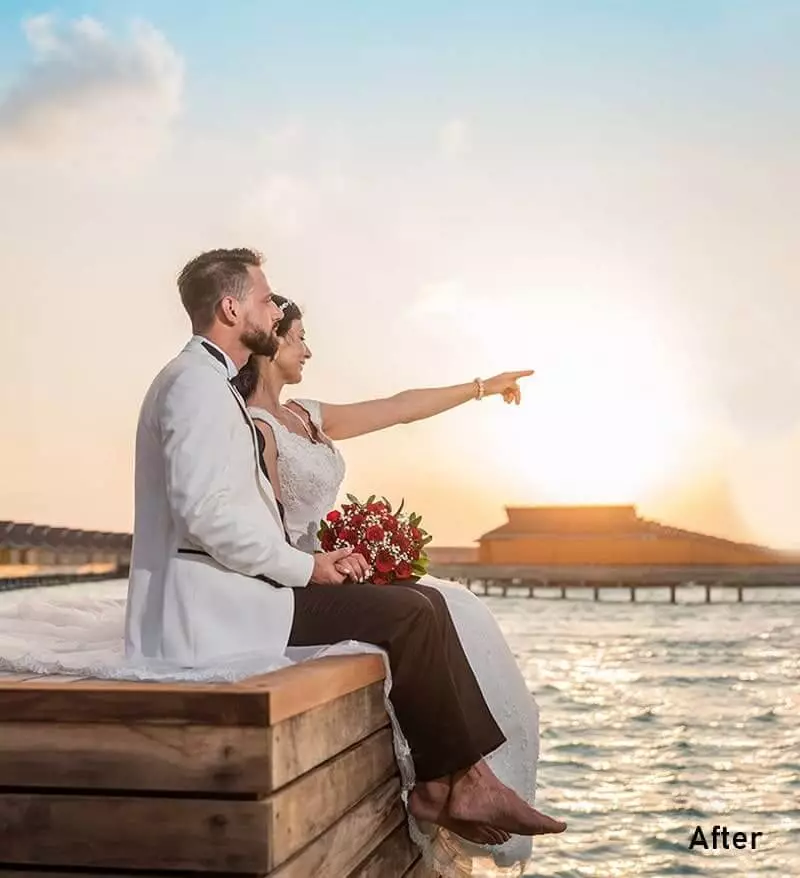 Colors in wedding images are determined by elements over which most people have no control. This is why many wedding portraits have damaged whites, unevenly faded greens, and reds that aren't bright enough. No matter what kind of color issues you have in your wedding photos, Retouch Pilot retouchers will make them flawless. We will adjust the contrast, brightness, and shadows, as well as other factors. We will not only increase the color of the accompanying sceneries, but we will also blur them to focus viewers' attention on the bride and husband. If you have a hectic schedule and can't handle color correction on your own, contact our wedding photo editing service for wedding photographers, and we'll take care of everything.
High End Level – US $6 (per photo)
Our Wedding Photography Editing and Color Correction Service Provides:
Stray hair removal
Shadows adjustment
Skin retouching
Digital makeup fixing and application
White balance correction
Wrinkles removal
Background editing
Dodge & Burn effect
Deep color correction
Benifit of This Service:
Professional photo editors can do things like remove blemishes, correct color and lighting, and even add in special effects or backgrounds. They can work with any type of photo, from posed formal shots to candid shots taken during the reception. Editing your wedding photos can be a great way to preserve your memories for years to come. And by using a professional editor, you can be sure that the finished product will be something you'll be proud to show off.
Get 1 photo editing service for free
Have your image back within
24
Hours
I was so impressed with the results of Retouch Pilot's photo culling and retouching services for my wedding photos. The final product looked incredible, and my friends and family were all blown away. Thanks to Retouch Pilot for helping me preserve my memories in the best way possible!
Preston Mccarty
Photographer
I've used Retouch Pilot's editing services for both my personal and professional projects, and I have always been impressed with the results. The models look realistically flawless, and they are able to keep me updated on the progress of my project every step of the way. I highly recommend their services!
Nico Robinson
Photographer
I was extremely happy with the results of the Retouch Pilot real estate photo editing service. My photos looked amazing, and my property sold quickly as a result. The editors are very talented and made my home look much better than before. I would definitely recommend their services to anyone in need of some photo retouching. Thank you, Retouch Pilot!
Alexis Wood
Real Estate Photographer
I've used some bad services before where the editors get cocky and don't note all my points. Retouch Pilot really saved me the hassle there. I'm glad I found this page.
Bennie Holland
Ecommerce Business Owner
I just used their Lightroom service and I'm impressed! I got my image exactly how I wanted. Love that they had the same vision as me. Excellent service, definitely recommending to my friends.
Cindy Mccormick
Photographer
The before and after pictures on Retouch Pilot's home page is what got me interested at first. The editors communicated through and through. They really listened to what I wanted and boy did they deliver.
Anastasia Ana
Photographer
Image clipping makes me impatient so while searching I came across this page. The delivery time got me hooked and I tried more of their services for fun. Have to say, it was a happy accident and now I know a great page I can trust my pictures with.
Karen Mcdonald
Business Man
Customer support here is amazing. I had a few questions that they patiently listened to and answered. I really hope they keep it up. I used their portrait editing services and they didn't over-do like most other places.
Lola
Photographer